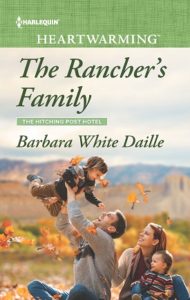 When an author has a muse like mine, many happy surprises pop up while writing a story. Check out my Muse Monday guest post to learn one that came with my first book from Harlequin Heartwarming.
~ ~ ~
The Rancher's Family debuts September 1 and is up for pre-order almost everywhere, including:
Amazon   Barnes & Noble   Books-A-Million
Harlequin   Kobo
I hope you'll check it out.
See you over at Muse Monday!