I get by with a LOT of help from my friends… #MFRWauthor #newrelease #excerpt
Readers – I try not to complain—much.
Seriously…I don't share many of the negatives in my personal life unless they happen to involve a certain computer upgrade that really needs to remain nameless. However, I'm here today to tell you that, for one reason or another, the past few months have proven this to be the year from you-know-where.
On the other hand, it's been a wonderful year when it comes to my writing life.
Take this week. I have a book birthday, which is soooo much better than a personal birthday.  😉
And not one, not two, but three friends have graciously welcomed me into their virtual homes—aka hosted me at their blogs—to help me celebrate.
M.S. Kaye, who has had a few book birthdays of her own recently, took time from her busy schedule to post an excerpt from my new release.
The always-awesome Rochelle Weber put me in the hot seat with some great interview questions.
Last but not least, N. N. Light has the book in the spotlight at her wonderful blog, Princess of the Light.
I hope you'll all have a chance to visit me at the blogs and then look around while you're there. You won't be disappointed. 🙂
Just in case you haven't heard, I should tell you the new book is Cowboy in Charge, book 4 in my Hitching Post Hotel series from Harlequin Western Romance (formerly Harlequin American Romance).
You can find the book at Harlequin and Amazon and almost everywhere books are sold.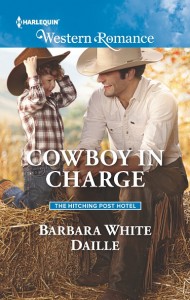 As always, I thank you for stopping by. See you over at the blogs!
All my best,
Barbara