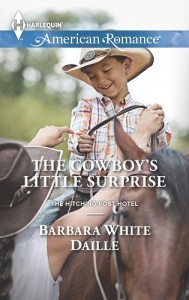 Happy Friday!
Today I'm sharing the first kiss from The Cowboy's Little Surprise at Bonnie Phelps, Author's blog. This is the first book in the Hitching Post Hotel series, and I have to admit it was fun to go back and revisit this tender scene. You can find the post here.
For another first, check out the excerpt at Linda McLaughlin/Lyndi Lamont's blog from the first Flagman's Folly book, A Rancher's Pride. Here's the post.
I'm happy to report my publisher still has this and A Rancher of Her Own, another Hitching Post Hotel release, on sale in digital for $.99 at major e-tailers!
If you're interested, you can find them at my author pages here:
Amazon: http://www.amazon.com/Barbara-White-Daille/e/B002J6B0QQ
Barnes & Noble: http://www.barnesandnoble.com/s/%22Barbara%20White%20Daille
Harlequin:  https://www.harlequin.com/shop/authors/23759_barbara-white-daille.html
Thanks for stopping by, and have a fabulous weekend!