Contest is closed. Thanks for stopping by!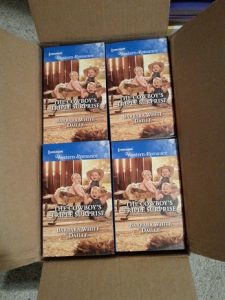 In honor of the holiday weekend, I shared a post yesterday which features part of a "labor day" scene from The Cowboy's Triple Surprise.  🙂  You can hit the back button above or click here to read the excerpt.
And in honor of my hero and heroine and their own labor pains, I'm going to give away a few copies of the book.  Please read on for the deets:
I will be giving away print copies.
Due to mailing and other legal restrictions, this is for physical addresses in the US and Canada only.
If you're interested, leave a comment on this post or the excerpt post – or feel free to do both. (One comment works, though – multiple comments don't increase your chances.)
Please do NOT put your mailing address in any comment. 
Winners' names will be announced here at the blog on Sunday, September 9th, along with the details and deadline to respond. Please return to see if your name is listed. 
This giveaway is not sponsored by any social media platform.
Shares of either or both posts on Facebook, Twitter, and your other social media are much appreciated but not required.
Thanks for stopping by! And one last special note:
Comments are moderated (due to spammers)
and will be posted after they're approved.
Thanks!
The contest is closed.
Thanks to all who stopped by and entered!