Buzz
Reviews
"Why you should read it: Daille packs an incredible amount of story into 200 pages—story, emotion and heart….Daille's prose is as vibrant as her storytelling…. Honorable Rancher is a sweet and engaging small-town story set in close-knit Flagman's Folly, N.M. The town is well worth the visit, but the romance will make you wish you could linger."
- Kathy, USA TODAY/Happy Ever After
"If you like small town settings, sexy cowboys and are a fan of second chance romances then Honorable Rancher is definitely a must read."
- Harlequin Junkie
"Intriguing dialogue, likeable characters and true-to-life storyline make HONORABLE RANCHER by talented Barbara White Daille a must read this summer."
"Any time a story makes me reflect on my own personal life, I consider it a winner and Barbara White Daille definitely has a winner with Honorable Rancher."
- Long and Short Reviews
"Daille has painted a wonderful story of two wounded souls trying to find their way back to each other."
- 4 stars - RT Book Reviews
"Beautifully written, packed with engaging characters in a small town many would like to call their own, family dynamics, realistic dialogue, an intriguing plot, humor, misunderstandings, romance and second chances, this story is a definite keeper. Just seeing Ms. Daille's name on a book is a reason for me to want to read it."
- 4.5 Blue Ribbons – Dottie, Romance Junkies
"American Romance author Barbara White Daille knows how to capture the reader with an absorbing story of regrets and second chances…  Snuggle up in your comfy chair and read a good book, THE RODEO MAN'S DAUGHTER by mega talented Barbara White Daille."
- 4.5 stars - Donna, Cata Romance
"If you enjoy emotionally charged, second chance at romance stories, you will enjoy The Rodeo Man's Daughter."
- DiDi, Guilty Pleasures Book Reviews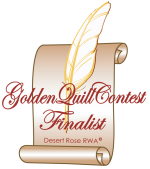 "…an emotional roller coaster of a story with strong characters."
 - 4 1/2 stars TOP PICK - RT Book Reviews
"Award-winning author Barbara White Daille pens an engaging romance, A RANCHER'S PRIDE.  This love story, involving a young child meeting her father for the first time and the concern of the adult characters wanting what is best for her, tugs at the heart….A beautiful book, A RANCHER'S PRIDE, by talented writer Barbara White Daille."
- 4.5 stars - Donna, Cata Romance
"This is a heartwarming tale about the importance of communication between people in any relationship. The story is an extraordinary narrative incorporating sign language enabling Becky to speak her mind and dialog with those around her. Instead of making Becky silent — White Daille gave her a voice, and what a voice she had. Reminiscent of Catherine Anderson and Deborah Smith who often give special people great voices — Barbara White Daille can add me to her fans."
- Sandra, Fresh Fiction
"A beautifully written story packed with love, conflict, charismatic characters and an intriguing plot, this is a story you will want to read more than once. Talented author Barbara White Daille reaches for the heart and touches it in A RANCHER'S PRIDE! Do not miss it!"
- 4.5 blue ribbons - Dottie, Romance Junkies
"I LOVED THIS BOOK.  I can recommend it without reservation.  I give this book a rating of:  5 HEARTS  … GO.  BUY A RANCHER'S PRIDE! Today!"
- Cynthia, Everybody Loves A Little Romance
"This is a fabulous family drama as the aunt and the dad fight for custody over his child who turns into the matchmaker. The characters are fully developed with flaws like obstinacy as each learns how irresponsible Ronnie is. Though the solution is obvious as this is a romance, fans will enjoy the trip getting there as a precocious little girl turns Flagman's Folly into the land of Enchantment.
- 5 stars - Harriet Klausner, Amazon review
"A RANCHER'S PRIDE is a feel good story that made my heart hurt just a little but smile a lot. Likeable characters hook the reader into a steady-moving story. I recommend it to anyone who loves a sweet love story."
- 4 stars - Rebecca, The Romance Review
"Ms. Daille has a lovely voice for contemporary romance. Her characters are not perfect which makes them all the more realistic. Her plots are well built and the book transitions smoothly from beginning to end….You'll want to pick up a copy of A Rancher's Pride. "
- 3.5 books - The Long and the Short of It Reviews
"Rapier wit, good hearted interference on all sides and eccentric characters make Daille's entry a first-class romantic read."
 - 4 1/2 stars TOP PICK - RT Book Reviews
RT Book Reviews Reviewers' Choice Award Nominee
"Talented author Barbara White Daille blends several scenarios with the ups and downs, twists and turns of a roller coaster, entertaining her readers with smooth flowing dialog.  I guarantee FAMILY MATTERS will be devoured in one sitting and thoroughly enjoyed by all. "
- 4.5 stars – Cata Romance
"Delightfully enriched with humor, well-drawn, charismatic characters, a wonderful plot and loads of love, this story will touch your heart.  I look forward to reading more by this very talented author."
- 4.0 blue ribbons - Romance Junkies
"With one of the most endearing cast of characters I've read in some time, author Barbara White Daille enchanted me from the first page.   …  If you love a quirky ensemble cast, if you want your romance sweet instead of hot, but still absolutely heart-melting, and if you love a happy ever after that makes you sigh, then I recommend you give Family Matters a try."
- 4 books - The Long and the Short of It Reviews
"…laugh out loud funny and charming. …a book you won't be able to put down."
  - 4.5 blue ribbons - Romance Junkies
"Barbara White Daille has again crafted characters you will love to love."
  - Romance Book Café
"Brand new author Barbara White Daille will soon be on your list of "must have" with The Sheriff's Son as an example of her attention grabbing stories."
  - 4 stars – Cata Romance
"…a fun family-oriented story that I truly enjoyed."
 - 4.5 blue ribbons – Romance Junkies
"…a sweetly told small-town romance.  …a feel-good read that will entertain."
 - Romantic Times BOOKreviews
"Barbara White Daille has written a Texas style romance that sizzles with Texas style heat. "
 - Romance Book Café
"Barbara White Daille's first novel, The Sheriff's Son, is a charmer of a read, filled with complex, heartwarming characters who come to life in a lovely small-town atmosphere.  The lively secondary characters are a delight, adding depth and texture to the story.  Barbara White Daille is a sparkling new talent to watch!"
 - Marta Perry, Award-winning Romance Author
More Comments
"Barbara White Daille is a rising star on the horizon whose characters will warm your heart.  Her writing creates a wonderful world you'll enjoy visiting."
 - Judy Christenberry, Best-selling Romance Author
"Attention Readers,
Mark your calendars so you don't miss picking up Barbara White Daille's upcoming Harlequin American Romances.
I highly recommend her stories filled with warm, wonderful characters we'd all love to have as friends, neighbors, lovers."
 - Roz Denny Fox, Award-winning Author