For your Sunday reading pleasure, here's a quick snippet from The Cowboy's Little Surprise:
Cole glanced toward the boys, then back at her. "There's no point in arguing," he said flatly. "I want to be a part of my son's life. And once he gets used to having me around, I intend to tell him I'm his daddy."
She flinched, still not able to handle hearing those words.
Somehow, she had half hoped he had changed his mind about Robbie, about working here, about staying in town to help his sister. When he hadn't shown up by this morning, she had hoped he had left Cowboy Creek again forever.
But no, here he was, just as adamant about spending time with Robbie as Robbie would be about having playtime with Scott.
Like father, like son.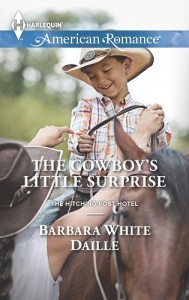 Available at your favorite booksellers, including:
Amazon  Barnes & Noble  Books-a-Million
Harlequin  Kobo  IndieBound
Thanks for reading!
All my best,
Barbara