On this #SnippetSunday, we're attending a Christmas party with Gabe and Marissa, the hero and heroine of Court Me, Cowboy.  They're newlyweds in a rocky relationship who are trying to keep up appearances for the entire town while attempting to work things out.  So far…not so good!
~~~
Gabe put his arm around her shoulders.  And now she couldn't suppress the shiver of pure wanting that shot through her.  Mortified by her own instinctive response to him, she clenched her teeth but managed to force her lips into a smile.
"Uh-uh, Marissa.  Not very natural.  Looks like you just backed into a prickly pear."
He slipped his arm to her waist.  Even above the loud conversations and laughter flowing around them, she could hear her breath catch.
"C'mon, now," he murmured.  "Gotta convince the neighbors, remember?  Show 'em the happy bride and groom?"
"I've acted happy all evening."
"From the other side of the room.  I sure can't play the ever-loving husband with my wife half a house away."
Now, the truth was out.  She had known he had brought her to the party only so he could show her off as his wife.  She had expected that.  Had braced herself for it. And, finally, their paths had crossed.  Her reprieve had ended.  She had made the agreement with Gabe and had to stick with it.
But he didn't have to have it all his way. "I've been socializing," she pointed out.  "You've been busy, too."
"I'm here now.  Time to act like the perfect couple.  We dressed for the parts, all right."  He caught her left hand and lifted it to his lips.  His gaze refused to let hers go, forced her to watch him as he pressed a kiss against her wedding band. Then he turned her hand over to kiss her palm. Her heart gave a sickening lurch.
Wrong. All wrong.  Acting like her loving husband was just that for Gabe – an act – while she hadn't the performance skill to hide her reaction to his every glance, his every touch. To her dismay, he wrapped his other arm around her, bringing their bodies close together.
"Hey, Miller," shouted one of the men in the crowd, "ain't your honeymoon finished yet?"
Looking over her shoulder, Gabe called back, "Heck, Charlie, it's just getting started."
"The mistletoe's that way," a woman called.
"See," he murmured in her ear, "it's working already."  He took her by the elbow and moved forward.
Unless she wanted to make a scene in front of all these people she already liked and who already seemed to like her, unless she wanted to look like Mrs. Scrooge instead of Gabe's blushing bride, she had no choice but to move with him.
 ~~~
Hope you enjoyed the clip!  This is my second published book, released first in print and then re-released in both e-book and large print formats. Here's the original cover: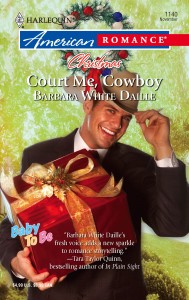 And here's the re-release: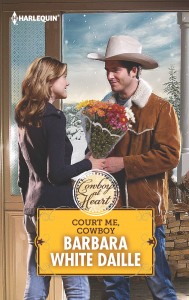 Don't know about you, but I love them both!  : )
You can learn more about Court Me, Cowboy at Amazon or your favorite bookseller.
All my best,
Barbara