For your Teaser Tuesday, here's another quick look at our meddling matchmaker, also known as Grandpa Jed. Jed is talking with his hotel cook and longtime friend, Paz, who shares a granddaughter with him:
"Something's got to be done about Tina, Paz."
She said nothing.
He sighed and rubbed his chin. The rasp of a few whiskers he'd missed shaving that morning sounded loud in the silence. "I stopped in at SugarPie's the other day." Sugar Conway ran a combination bakery/sandwich shop/gossip parlor in the center of Cowboy Creek. "Sugar didn't have any details yet, but the word is, Cole Slater may be headed back to town."
Paz dropped the serving tray, which knocked against the saltshaker, spewing salt across the bare wooden tabletop. "Oh, I'm sorry, boss." With hurried, jerky movements, she brushed the loose salt into her palm.
He frowned. "Something wrong?"
"No. Why should there be anything wrong?"
But she didn't meet his gaze.
~~~
Thanks for reading!
Excerpt from:
The Cowboy's Little Surprise
Book 1 in The Hitching Post Hotel series
Find the book at any of your favorite booksellers, including:
Amazon  Barnes & Noble  Books-a-Million Harlequin  Kobo  IndieBound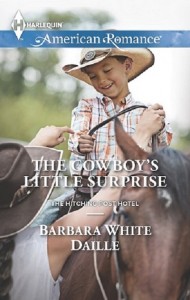 All my best,
Barbara