Since I just unveiled the cover for my December book, I thought I'd share a clip from it for your Teaser Tuesday.
From the opening of Chapter 1 of The Lawman's Christmas Proposal:
With the finesse of a well-trained pickpocket, Mitch Weston snagged a carrot from the vegetable tray his mother was preparing. Of course, a skilled pickpocket wouldn't have been dumb enough to flash the stolen goods—at least, not until he put them up for sale on some street corner.
Mitch, on the other hand, chomped down on the carrot in full view of his mom.
"You don't eat enough," Nancy said.
"I do," he countered. "But I'm betting while I'm here, you're going to do your best to fatten me up."
In the two days he'd been home again, this was the first chance they'd had to talk alone, and he instinctively knew the direction she would take any private conversation between them. …
"Your father mentioned he'll try to be home early tonight for a change," Nancy said. "But you know how hard it is to get him away from the office. About as difficult as it is to get you back here for a visit."
His mom hadn't intended it, he knew, but her gentle nudging only reminded him he shouldn't be here now. It wasn't that he didn't love his family. He just didn't enjoy coming back to his hometown. And this time, he didn't want to think about the circumstances that had brought about his return. The disaster that had left him lying on a cold concrete floor next to his partner's body.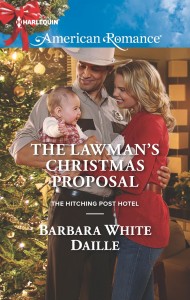 Thanks for reading!
The book is up for preorder. For more info:
Amazon    Barnes & Noble   Books-A-Million
Harlequin   IndieBound    Kobo
All my best,
Barbara