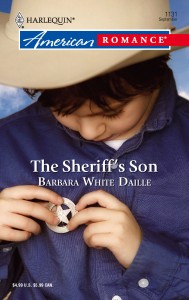 Sharing a new clip from The Sheriff's Son:
Sarah and Tanner have been made co-chairs of a neighborhood watch committee, and their shared "responsibilities" are becoming more than Sarah can handle.
~~~
She looked down, made an unnecessary checkmark next to an imaginary item on her clipboard.  Tried to keep her mind on her own duties.  "Have you found out who's behind all these pranks?"
"In two days?  No.  But I'll start making rounds in the county car at night."
"If you're taking on extra duties yourself, I'll do the same."  It was the least a co-chair could do.
"We can make up a team."
She shook her head.  "No, thank you."
He leaned forward, giving her another look at his devilish grin.  "Aw, c'mon, Sarah.  Be like old times, when we'd cruise around in that old clunker I had."
They had spent more than a few of their nights riding alone in the dark, intimate closeness of the front seat of his car.  She swallowed hard and glared at him.
The gall of the man yet again, same as on the night of the Town Hall meeting.  Insinuating himself where he wasn't wanted, using that same teasing tone.  Acting as if they could ever regain what they'd had between them years ago.
"That won't work, Tanner.  We're not teenagers anymore."  Yet she clutched her clipboard with fingers that shook hard as any high-school girl's.
~~~
You can find The Sheriff's Son at your favorite e-book retailer, including:
~~~
Hope you have a wonderful Thanksgiving!
All my best,
Barbara