Hi, Readers – hope you're having a much more peaceful day than the hero and heroine of Cowboy in Charge are having. Jason and Layne have plenty of old grievances to discuss, but in this clip Layne is in the middle of a current disaster: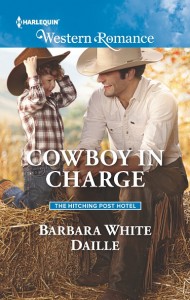 "No. I'll find someone else to help me out." Anyone else. She shot to her feet to stare him down. The defiant movement did her in. Light-headed, she staggered, then struggled to regain her balance. The small amount of soup she had eaten churned in her stomach. With one hand over her mouth, she fled from the room.
Even as she hurried toward the bathroom, she frantically ran down a mental list of all her friends. Surely she could find one person who wasn't working and would come to her rescue.
Because Jason couldn't stay here all night.
~~~
You can find Cowboy in Charge and all the Hitching Post books at any of your favorite booksellers, including:
Amazon ~ Barnes & Noble ~ Books-A-Million
Harlequin ~ IndieBound ~ Kobo
And FYI for any first-timers here:  the next issue of my approximately once-a-month newsletter will be going out in the next couple of days. To subscribe, check the link and/or the button at the top of your screen.
Thanks for stopping in, and have a great start to your week.
All my best,
Barbara