This Snippet Sunday is from The Sheriff's Son, my first published novel, which is now being reissued for the first time in e-book format.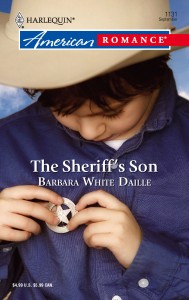 The eeny-meeny-miny-mo approach to paying bills wouldn't keep creditors from her door much longer.
Sarah Lindstrom sighed, planted her elbows on the desk and buried her face in her hands.
What she wouldn't do for some matches or a fireplace.  But the only bookstore in Dillon, Texas, wasn't the place to find either of those things, even if she were dumb enough to resort to drastic measures.  Burning the bills would only add to her problems, not solve them.
If one more straw would snap the camel's back, as Daddy used to say, then one more debt, one more unplanned doctor visit, one more call from Kevin's school ought to bring down a whole herd of cattle.
~~
The e-book version of The Sheriff's Son officially releases on October 15th.  More information and pre-order links are up at Amazon.
You can also find a longer excerpt on the page for The Sheriff's Son here at my website.
Thanks for reading!
All my best,
Barbara