Following up Monday's conference post, here's a photo taken at the Literacy Autographing at the Romance Writers of America's annual conference, held this year in New York City.
I'm not great with remembering to take pics, so thank goodness for friends with camera phones.  lol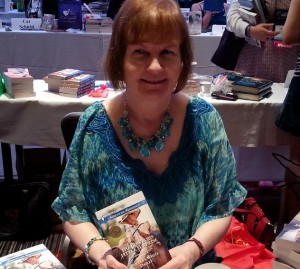 ~~
In case you missed the Spotlight and Character Interview from Rochelle Weber's current heroine, please just click back to the previous post on this blog page.
~~
I was on the blog trail too, this week, visiting with Fresh Fiction. Looks like they're keeping my giveaway open through today (8-1), so hurry if you want to enter – and good luck if you do!
On the giveaway sign-up page, you'll also find a link to my guest post. Click here to get to the entry page.
Thanks for stopping by, and have a safe and happy weekend.
All my best,
Barbara