Just in time for the holidays, we're welcoming Mickie Sherwood with her inspirational romance, Christmas Crush.
Blurb: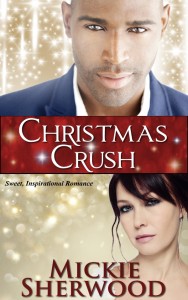 Although Ashley Wagner feels more like Scrooge than Santa, she keeps her promise and accompanies her sister back home for a Christmas wedding. Her three-day weekend is off to a rocky start, thanks to the unexpected run-in with her womanizing ex-husband, and his very pregnant new wife. She manages to get away with her dignity intact, but later, with old wounds ripped open, the professional crisis manager ends up in the middle of her own life-altering predicament.
Then, sports journalist Craig Johnston, wheels to her rescue.
Will Ashley spend Christmas brooding over bitter memories? Or will Craig, a dynamic paraplegic, present the deserving divorcée with a gift she can't resist?

Excerpt:
"I'm Ashley Wagner." She extended her hands to him. "I believe you're the one I should thank for being so kind to me this morning."
Taking her outstretched hands, Craig looked at her. No longer in a rush, he took time to analyze Ashley. A feeling, akin to this morning's enchantment, zapped him. "Are you all right?"
At that point, Ashley's action mystified him. Craig watched her close her eyes. But, she never removed her hands from his fingers.
"Ask me that question again," she urged.
Baffled, he obliged. "Are you all right?"
"That voice." Her eyes reopened. They seemed to shower him with a joyful gaze. "I would recognize that chivalrous rumble anywhere." Ashley squeezed his hands as if to impart power to her gratitude. "It is you."

Find Christmas Crush:
Amazon: http://www.amazon.com/Christmas-Crush-Mickie-Sherwood-ebook/dp/B00QQFBW1Y/
B&N: http://www.barnesandnoble.com/w/christmas-crush-mickie-sherwood/1120899478?ean=2940149992225
Kobo: http://store.kobobooks.com/en-US/ebook/christmas-crush-1
Createspace: https://www.createspace.com/5757645

Find Mickie Sherwood:
Blog: http://www.mickiesherwood.com/blog
First Chapters Blog: http://www.bayouloveromances.blogspot.com
Twitter: https://www.twitter.com/MickieSherwood
Pinterest: https://www.pinterest.com/MickieSherwood

About Mickie:
Mickie Sherwood is an author and a novice photographer. Using her backyard as the backdrop for her inspiration, she loves taking pictures of nature. Her love of photography incites her creativity for writing. Spending time with her family and cruise vacations, also stokes her imagination.
With all of her interest combined, fascinating characters and intriguing circumstances can develop.
Mickie also enjoys a good laugh. Revel in the humorous stories she shares about life, at her blog—Mickie's Mutterings.
~~~
Thanks to Mickie for visiting The Daille-y News!
All my best,
Barbara