Today's teaser is from my current release in which Ally, the heroine of The Rancher's Baby Proposal, is facing quite a predicament…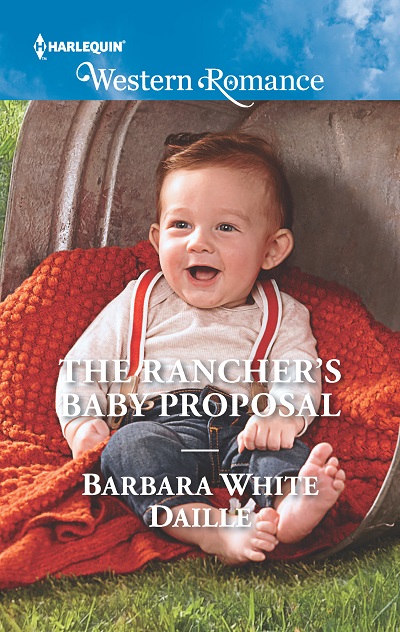 "I'll pay you whatever it is you make hourly at the store," he told her.
I don't want your money.
But how could she say that? He would find it highly suspicious, especially since she had said she could use the extra cash. And she couldn't confess to him that minding his baby scared the heck out of her. Not meeting his eyes, she sipped her tea and then touched the paper napkin to her lips.
She thought of all the years she had crushed on Reagan. Everyone in school probably knew how she felt about him. He must have known it, too. He couldn't have missed it…could he? Now the idea made her cringe. If he had noticed, she couldn't risk saying something that would make him recall how much she had liked him…and maybe make him change his mind about asking for her help.
Worse, if she didn't guard her reactions now, he would find out how much she still cared.
"You'd…want me to take the baby home with me until you pick him up?" That would work. Mama could help her with him.
"He'll be fine with Mrs. B all day, I know that. But his routine will already be upset enough since he won't be with his regular sitter. I'd rather you bring him out to the ranch and watch him there, if that's not a problem for you."
She was stuck between a rock and a hard place, as Jed Garland would say. She would go out to Reagan's family home to spend afternoons and evenings with him…and a baby she had no idea how to handle.
Find the book and more info:
Amazon https://www.amazon.com/Ranchers-Baby-Proposal-Hitching-Hotel-ebook/dp/B01LLPCDXY/
Barnes & Noble http://www.barnesandnoble.com/w/the-ranchers-baby-proposal-barbara-white-daille/1124564570
Books-A-Million http://www.booksamillion.com/p/Ranchers-Baby-Proposal/Barbara-White-Daille/Q92625305?id=6809026813830
Harlequin http://www.harlequin.com/storeitem.html?iid=70354
IndieBound http://www.indiebound.org/book/9780373757596
Kobo https://www.kobo.com/us/en/ebook/the-rancher-s-baby-proposal
Thanks for reading, and have a great week!