Welcome to Barbara White Daille's Web home!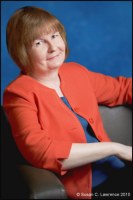 Thanks for dropping in! I'm Barbara, and I write small-town romances big on home and family. They often feature matchmakers and kids…or kids who are matchmakers… 🙂 And – in my eyes, anyway – there's usually a touch of humor.
The latest book in the Hitching Post Hotel series, The Cowboy's Triple Surprise, recently released. You can find an excerpt here.
And while you're visiting, check out the upcoming book in the series, The Rancher's Baby Proposal, which debuts in May.
Have fun checking out the site and my blog, "The Daille-y News." And for insider peeks and early reveals of exciting news in my writing life, consider signing up for my newsletter.
All my best,

Latest Releases
The Cowboy's Triple Surprise
Book 4, The Hitching Post Hotel
March 2017

Amazon  
Barnes & Noble  
Books-A-Million
Harlequin  
IndieBound  
Kobo
Snowbound with Mr. Wrong
Book 1, Snowflake Valley

Read Chapter One
and find links to your
favorite booksellers
at this page.

Upcoming Release
The Rancher's Baby Proposal
Book 6, The Hitching Post Hotel
May 2017

Amazon
Barnes & Noble
Books-A-Million
Harlequin
IndieBound
Kobo