The Lawman's Christmas Proposal
"Say 'I do' to The Lawman's Christmas Proposal
— you'll be so very glad you did."
 – USA TODAY/Happy Ever After
From the cover:
A husband for Christmas?
Mitch Weston's back in Cowboy Creek, and self-proclaimed matchmaker Jed Garland has his single granddaughter Andi on his mind. Mitch is a lawman, good with the little ones and easy on the eyes. He and Andi were high school sweethearts, for heaven's sake! Why can't they see they're perfect for each other?
Because Andi already lost one husband to a dangerous job, and now she's all about playing it safe, for her sake and her children's. Being a cop is everything to Mitch. After discovering Jed's plan, Mitch and Andi come up with their own: they'll pretend to get engaged and then break up due to irreconcilable differences. Jed's got his work cut out for him—because this match needs a Christmas miracle!
Excerpt:
As Mitch strode through the doorway, Andi crossed her arms, rested her hips against the table, and gave in to the pleasure of seeing him. In tight black T-shirt, jeans and black biker boots, he looked taller and tougher and sexier than ever before. That T-shirt and his black hair made his eyes startling blue.
"Jed and Paz told me I would find you here."
She frowned. "Is everything okay? Do they need me to take Missy off their hands?"
"No, they're feeding her Paz's Christmas cookies, and they said that's keeping her out of trouble. They also said your kids won't ever want to go home."
Just what Jed was hoping for, she knew.
"What can I do for you?" she asked. When he grinned, she crossed her arms more tightly. "I'm very busy."
"That's why I'm here. Jed figured he'd keep me out of trouble by giving me a job."
She stood straighter. "I don't need a helper, thank you."
"Too late. I'm on board. What do you want me to do?"
She turned away and rummaged through a carton of ornaments. "Nothing. I've got everything under control." The words made her think again of her reaction to his kiss. Of her loss of control.
"Andi, walking away yesterday didn't make me go away. Pretending to be busy here doesn't mean I'll disappear. Why don't you tell me what's bothering you?"
"At the moment, you are."
"Well, that's a start."
She shot a look over her shoulder and found him smiling down at her. He was so close, she could have taken a step back and found herself in his arms.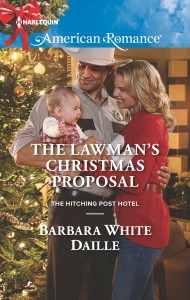 The Lawman's Christmas Proposal
Book 3 in The Hitching Post Hotel series
December 2015
Amazon    Barnes & Noble   Books-A-Million
Harlequin   IndieBound    Kobo