A Husband by New Year's
by Sean D. Young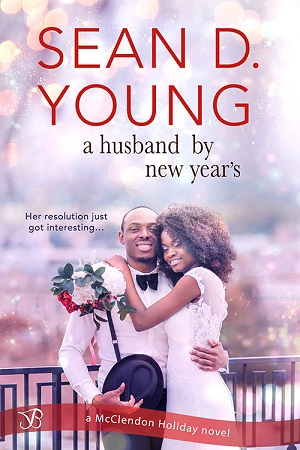 When Renee McClendon was a teenager, she made a list of all the qualities her perfect man would have, but no matter how many handsome guys have ticked the boxes, she has yet to find the man for her. She wants a regular guy who's not afraid to get his hands dirty, and she's given herself a deadline. If she doesn't find Mr. Right by New Year's, she's done searching.
Patrick Dunlap is used to woman looking at him as a lowly chauffeur…until they realize he owns the whole company. All he wants is a woman who'll want him for who is, and not only see dollar signs. He hits it off with Renee right away, so while they get to know each other, he withholds some small details instead of risking what they're starting to build.
But when the truth comes out, how forgiving will Renee be?
From Chapter One
"Here we go again with that dumb list!" Julia Mitchell exclaimed. "I don't know why Renee still keeps that book in the first place."
Renee McClendon didn't care what her friend thought about her journal, but she did regret bringing it with her. They were supposed to be celebrating Gina Armstrong's wedding, not having a bash Renee's list party.
Renee started making lists when she was a young girl. At age fifteen, she wrote the qualities of her perfect man. She had a crush on Johnny Jones, a popular senior and the quarterback of her high school football team. Using the things she liked about Johnny as inspiration, she created a perfect man list in the journal her mother had given her. As the years passed, Renee's crush on Johnny faded, and her list changed as well.
She usually kept the book on her bedside table at home, but she'd planned to write later tonight after everyone else was asleep, so that she could document her thoughts about the weekend festivities.
Renee held up her old, pink, leather-bound book with the cute heart-shaped locket. "What? This?" The pages were discolored where the gold foil used to be from wear. "I don't think you have a problem with my journal, Julia, you have a problem with the list."
"I remember when your mother gave you a journal for your birthday when we were seniors in college," Cara Mathews added.
"Yeah, I remember too; that's the point," Julia said, shifting in her chair. "What is the purpose of keeping something that old? We're almost thirty years old, and you're walking around with a book your momma gave you."
Renee understood very well that Julia was ignoring her question about the list. For a woman who always had a comeback, Julia never responded when Renee asked why she had a problem with her list.
Renee waved the journal in the air. "This isn't the only book my mother has given me. I've been writing down my thoughts since I was twelve. As a matter of fact, all my siblings keep one as well."
"They're just a waste of time if you ask me," Julia added.
Nobody asked you.
Click here to read on
and find out just why this book is so important to Renee!
Pre-order the book: